Each year we wait in anticipation for the return of the Wildlife Photographer of the Year exhibition. The collection, housed in the London Natural History Museum, always exceeds expectations. Powerful images from each corner of the globe capture the raw beauty of Mother Nature, providing rare insight into life in the wild. As the exhibition for 2017 begins to draw to a close, we've collated the photography from the awards that made us tick; our best-of collection as follows…
Memorial to a species, Brent Stirton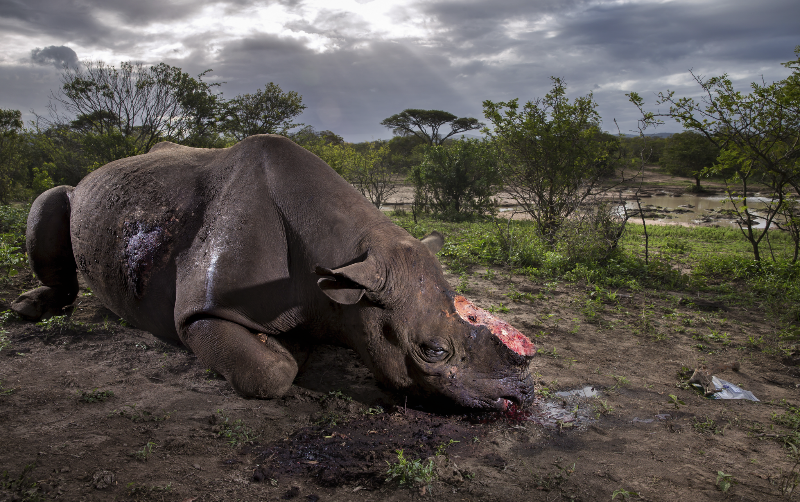 As the underground demand for rhino horn endures, so does its devastating effect. Photojournalist Brent Stirton came across one of the industry's latest victims, a black rhino bull, in South Africa's Hluhluwe Imfolozi Park, as part of an undercover investigation into the illegal trade. Poignant, emotive and incredibly shocking, Brent's image, Memorial to a species, saw him take home the grand title of Wildlife Photographer of the Year.
Giant gathering, Tony Wu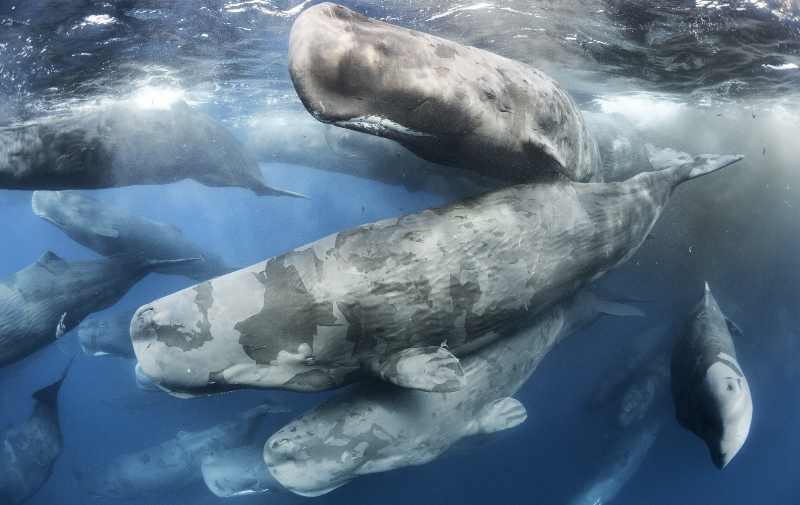 Photographer Tony Wu's image proves it: sperm whales can party. Sri Lanka's northeast coast was the scene for this whale gathering – a mysterious social occasion which has only rarely been reported before. Dozens of sperm whales met in the Indian Ocean, bumping and rubbing each other by way of greeting. This mass social scene may, Tony says, be an indication that populations are finally improving. Industrialised whaling in the 20th century saw the loss of some two thirds of the sperm whale population.
Crab surprise, Justin Gilligan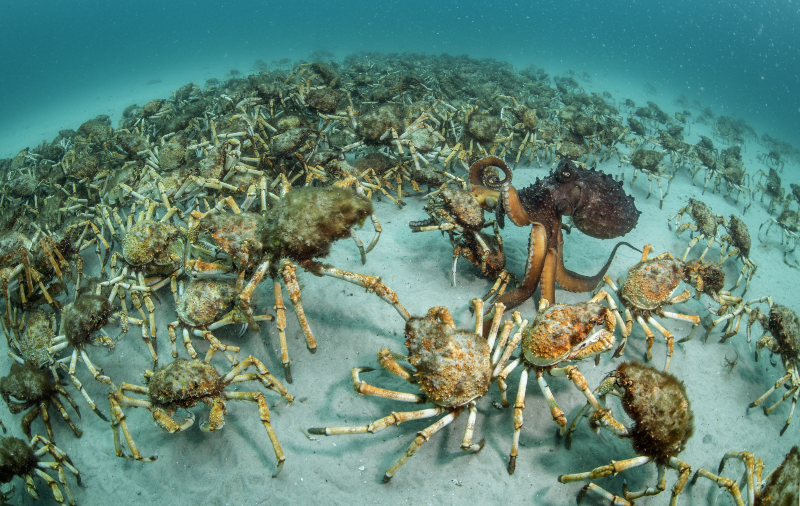 Freelance photographer Justin Gilligan was documenting an artificial reef experiment when a pack of crabs the "size of a football field" swarmed the area, followed soon after by a hungry octopus. Justin's unexpected encounter made for an award-winning photo.
The good life, Daniël Nelson

Caco, a young, nine-year-old gorilla enjoys a snack of African breadfruit in dense jungle. This is a sight that is increasingly rare, as deforestation continues to encroach on gorillas' living space, and ultimately, their ability to survive. Young photographer
Daniël Nelson from the Netherlands hopes his work will raise awareness for the endangered animals. Earning him the title of the Young Wildlife Photographer of the Year, this photograph certainly is a good start.
Palm-oil survivors, Aaron 'Bertie' Gekoski
Eastern Sabah, on the island of Borneo, is a key producer of palm oil – a lucrative global export used in almost half of the products on supermarket shelves. Deforested oil-palm plantations take up the majority of the land in the region, leaving elephants to squeeze into smaller and smaller pockets of rainforest. Photographer Aaron 'Bertie' Gekoski captured this telling image of three generations of Bornean elephants edging their way across the platforms of an oil-palm plantation. He won the award for Wildlife Photojournalist: Single Image for his efforts.
Good news! The Wildlife Photographer of The Year exhibition at the Natural History Museum has been extended to July 1st. For more information, head to their website.