You've got to love listening to a bit of gruesome detail, right? Historical toe-curling facts and bloody stories of times past. Moments from history that send a shiver down the spine and turn what you thought you knew upside down, inside out! The kind of things you'd never hear about during a history lesson at school? (Not in my day anyway).
Next time you are in London, then seek out The Cloak and Dagger tour. It's full of gory historical facts, explores a popular part of London and makes for a great evening's entertainment. Stay with me!
Alert – There are no spoilers in this post – just a lot of mentions of gore and gruesomeness!
Immersive experiences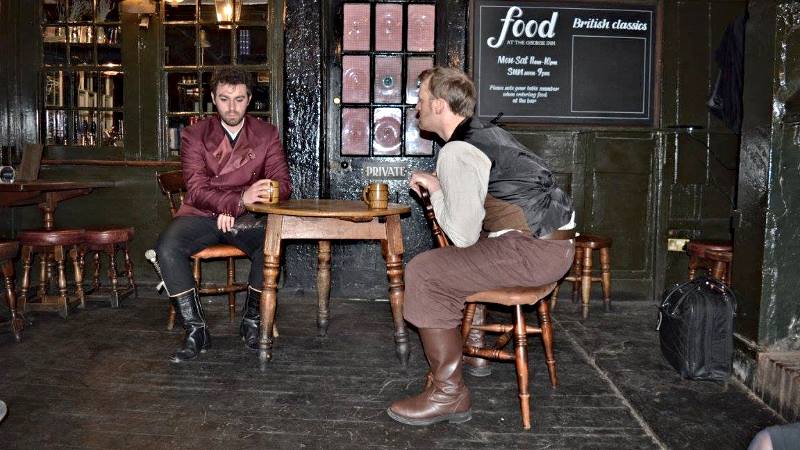 Photo Credit: The Cloak and Dagger Tour
The way we travel has changed and the activities we do when we're travelling are changing too. More and more of us are looking for immersive, unique experiences. I know I do! We want to get under the skin of a destination. Get a sense of the real place and people that live or once lived there. The Cloak and Dagger tour fits snuggly into that category. It's immersive, definitely unique, fun and gets under the skin of the people that made London their home. What's not to like?
What can you expect?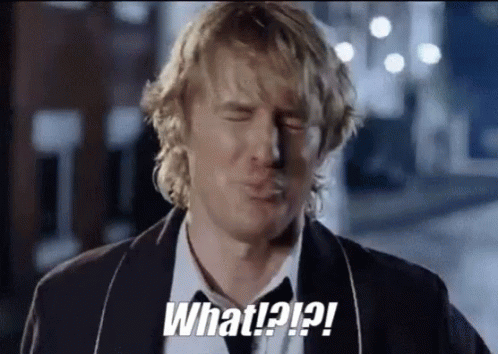 The Cloak and Dagger tour takes place in Southwark, London. Along the South Bank. It's a walking tour interspersed with talks and a concluding dramatic re-enactment. You'll visit places that helped to shape the area. Hear tales in all their gory, gruesome detail (love it!). Oh trust me, you'll be saying 'What!?!?' after you hear what went on! And most importantly you'll get a real sense of the history of Southwark, its people and its importance of the area to the city of London. This is warts and all, blood and guts, piss and poo! No glossy makeover of history on this tour. And 3 hours of fun!
You meet at the famous George Inn, where your guide is waiting to take you on the tour. Be prepared to get involved (or told in my case! Let's just say I got stretched and pulled apart – all in the name of entertainment!) Ask questions and just well, immerse yourself! Then at the end imagine yourself in the Inn, keg of warm beer in hand as you watch a dark truth unfold in-front of you. We say no more!
The Cloak and Dagger Tour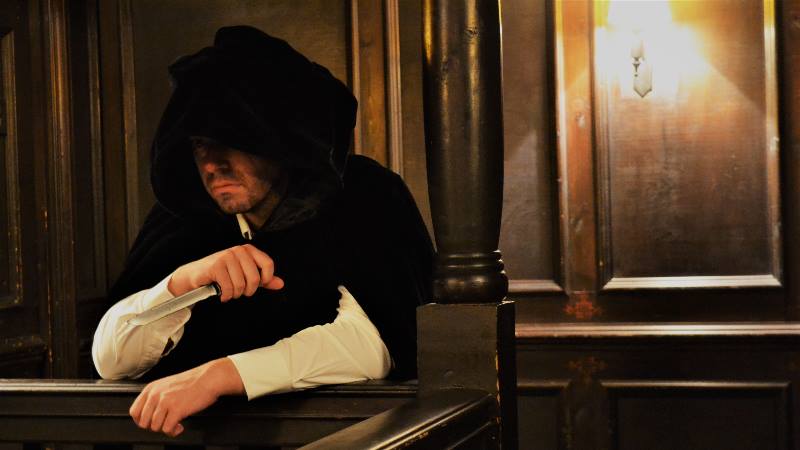 Photo Credit: The Cloak and Dagger Tour
Immersive, unique tours are becoming a significant part of people's travel plans. They are popular and fun. They add something extra to your trip, oh, and your memories. On your next trip to London, you really should check-out the Cloak and Dagger tour!
Oh, the gore!!!