"Belfast, how we know you so well. You're like heaven, you're like hell."
Song lyrics that will ring so true for anyone that has experienced what this city has been through. Today, thankfully, it's more like heaven as Belfast continues to grow as a thriving cultural hub, a place that remembers its past, but wants to look forward. Opening new, award-winning attractions, enticing visitors to its shores. Ready to explore a fascinating city and awe-inspiring region?  Strap in, get ready, as we take two days in Belfast.
You wake up to a new day, and the thought of adventures enters your mind. You might even see the iconic yellow ship building cranes that symbolise the marine heritage of this city from your hotel window? It's time to explore, whether you are doing it under your own steam or using a hop on hop off bus, it's to one of the most recognised you can start your itinerary.
The Titanic Belfast Museum will take you on a journey into the building process of perhaps the world's most famous ship. This modern museum is as interactive and compelling as you'd expect. So, visiting here sets up the rest of the day perfectly.
Other nautical places of note include the HMS Caroline and no trip here can go without a visit to the Salmon of Knowledge. It's the blue-tiled artwork close to the waterfront. You'll also find the MAC (Metropolitan Arts Centre) is close by, and well worth browsing.
Depending on how long you spend on all these attractions, which could be all day, you'll then want to head to the Cathedral quarter. Here is where you'll find the evening entertainment, traditional pubs, cocktail bars, and so on. Belfast's central hub. And make no mistake it's a hip party town when the sun goes down.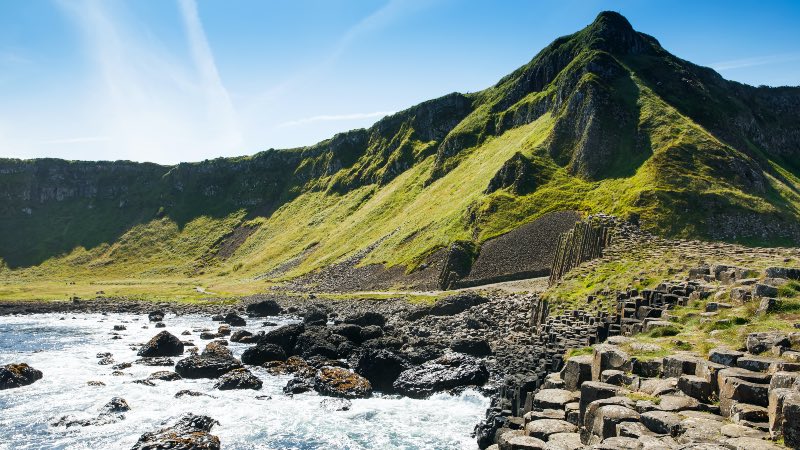 Day 2: Away from the city
If day one was about exploring Belfast's attractions, day two is about heading out of town, as there are some true gems to discover. For one, and a major draw to the area was the location filming of mega-popular TV series, Game of Thrones. Think about it. You can visit some of the filming locations and base yourself in Belfast is the perfect scenario. So, for fans, it's a simple decision to visit the places that live so much in the memory.
Another place with a mystical presence is the Giant's Causeway. These hexagonal rocks that line the shoreline are a marvel of nature. The gateway to hell? Hmm, perhaps not, but they are a sight worth seeing. Just remember you're on the edge of the ocean here, so prepare yourself to be blown away or soaked or both!
Then, as you head back into town, it'll be another night to enjoy the Irish hospitality or if the weather holds and the evening's light lasts, a walk around the Botanical Garden. It would be a delightful way to round off the touring, and your time in the city.
Belfast has seen the horrors, but now treads a peaceful path, It's an inviting city, full of positive vibes, whether by day or when the revellers come out to dance, drink, and celebrate at night. Time you joined the party, isn't it?