Here's an Oslo fact that will make you sit up! Ready? A forest surrounds most of the city! A forest! Think about that for a second. There aren't many places that can claim that. If any!
In fact, at weekends many locals head for the trails for a hike in the summer and skiing in the winter. It's called Oslomarka, (the Oslo Forest). It's protected and is home to Lynx, Wolf, and Moose, among others! So, if you're planning to come here, and why won't you? Head for the woods!
Back in the urban centre of the city, Oslo has a rich cultural and art heritage that mixes with a late-night party scene that matches any of its Scandinavian neighbours. Beyond the city you'll find fjords, quaint villages and stunning castles to discover. So, if you are looking for a place that knows how to have fun, is among the green list of cities doing their bit for the environment, then Oslo is for you. 
But, what can do you see and ensure you make the most of your time here? We look around for the best things to do in Oslo.
Oslo is Scandinavia's oldest capital (founded in the 11th Century) and of course has roots dating back to Viking times! In fact, there are plenty of museums that will quench any history lover's thirst! As well as a Royal Palace, opera houses, cathedral, and parks! Picking out the best bits is, well a thankless task, but some of the following should be on your list.
National Museum and Theatre
Oslo Opera House and Cathedral
That should keep you busy! And with its great nightlife scene, you have a full day or three of touring and evening entertainment to look forward to.  
You can't come to Norway, Oslo, without exploring the Fjords. It's lucky then that if Oslo is your base, you can visit the nearby Oslo Fjord. You can settle back, relax and admire the picturesque islands and take in the bustling Oslo harbour. Oh, and with many offering dinner as well, perhaps romantic too!
Ski jumping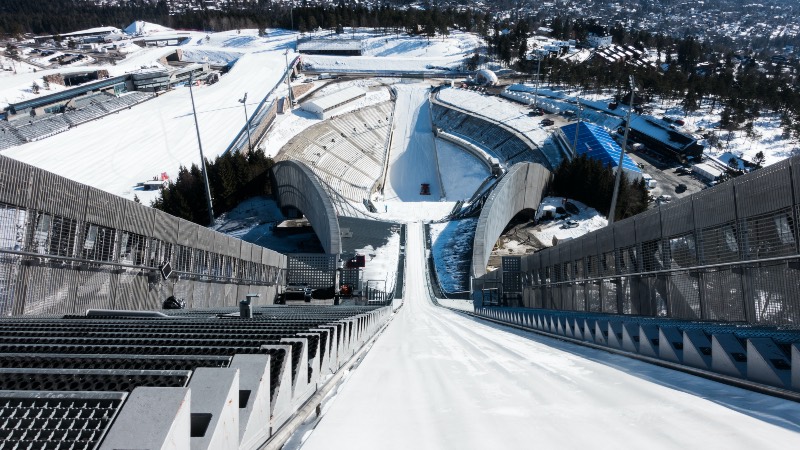 Have you watched them jumping off the hill, soaring through the air and landing in perfect harmony with their feet and legs still intact! Must be mad? Well, it's worth a mention as you can see what it's like to prepare yourself and launch into the cold Oslo winter air! A trip to the ski jump may not sound Top of the Pops, but well there is little doubt it'll enthral you, once you see the enormity of what these guys do! Crazy, but oh so fascinating.
City life and nature, that's what best describes a visit to Norway's capital. With its mix of places to explore, good food and nightlife, amazing scenery, and healthy living, well it's difficult to find better places. Oslo really is tops.