Stand in the same spot in the early morning or at twilight, and you'll notice that although you're looking at the same Agra, it's atmosphere will be very different. It's part of this city's unique appeal. Along with a certain wonder of the world! Part of the Golden triangle with Jaipur and Delhi. Agra, a legacy of the Mughal Empire is a glorious, intoxicating place to visit. Spend a day or more and you will be pulled in by its attractiveness.
Agra is a few hours journey south of Delhi, and if time is short, can be visited and enjoyed within a day. You may have to pick and choose the places you visit, but one fact is known, you'll be visiting the Taj Mahal. However, it's not just about that white marbled wonder. Agra was the birthplace of Hindu god Krishna, and you'll find there are numerous temples to explore. Add in the chowks (markets), and the Mughal Empire's legacy and you have a blend that'll ensure your day is full.
We're looking at a day trip, but if you can afford to stay longer then slow it down and immerse yourself in the town's spirituality and old-world charm.
It may seem obvious to start your day at its most famous attraction, but at the end of the day, a visit to the Taj Mahal is why the majority of people flock here. Visiting one of the seventh wonders of the world is a special experience and as you walk towards the white, glistening marble structure, see its ornate design, you'll need to take a moment to let it sink in. This is a very special place on the banks of the River Yamuna, and moments like these don't happen often, so take your time, enjoy it's beauty, it's gardens and surroundings.
Lunch
Around the Taj you'll find plenty of cheap cafes and accommodation choices. Predominantly for the backpacking community, but nevertheless a place to recharge. For a more interesting and immersive experience you may want to head for the chowks (markets). These are the places, bustling with life. The Kinari Bazaar is one of the more popular options.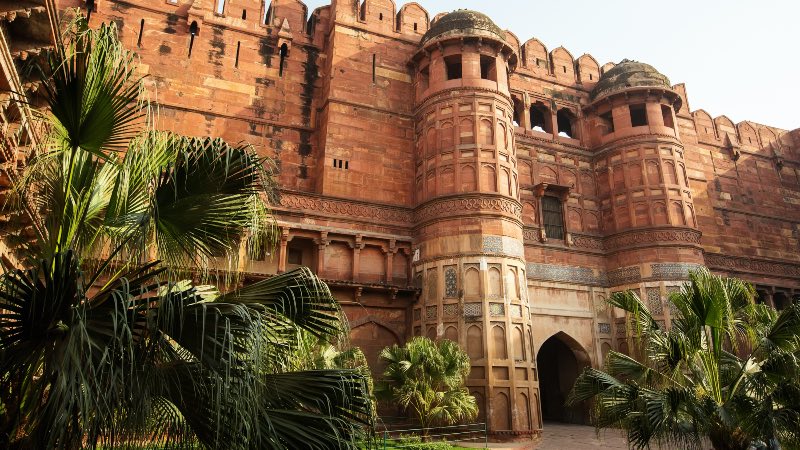 Afternoon
A couple of miles/km's along the River Yamuna, on the eastern edge, you'll find Agra Fort. It was the main residence of the emperors of the Mughal Dynasty until they moved to Delhi around 1638. This red sandstone fort is Agra's other big draw. Foreboding in appearance, but a place well worth exploring.
If time allows, there are other tombs and mausoleums to visit. Jehangirs Palace and Khas Mahal are two options worth exploring. The tomb of Akbar the Great is another. As is Mehtab Bagh, a garden complex that lies north of the Taj Mahal. It's perfectly aligned with the Taj. See, each place has a magical element you just can't ignore.
Evening
It's well worth before heading back to Delhi, or onto Jaipur, to take a moment and watching the setting sun. One option is to switch your attractions around and see the magic of the Taj at sunset. It'll make for the perfect ending to a special day, in a very special place.
As a place to visit, Agra ranks among the very top of India's places. It's a place that will enthral, delight, and leave you with lasting memories. A truly exceptional Indian experience.