Wow! Bet it's the first word you'll say the moment Halong Bay comes into view. This Vietnamese destination is a magical mix of sandy beaches, emerald-coloured waters and towering limestone islands, where rainforest sit atop, adding a green hue to the rocky outcrops. Little wonder then you'll say 'wow'.
You're not coming here to go shopping or visit a museum. Although a theme park is possible!  This is all about the natural environment, discovering the beaches, exploring the caves and hopping around the islands. Pack that swimsuit, towel and camera. You've got some 1600 islands to find!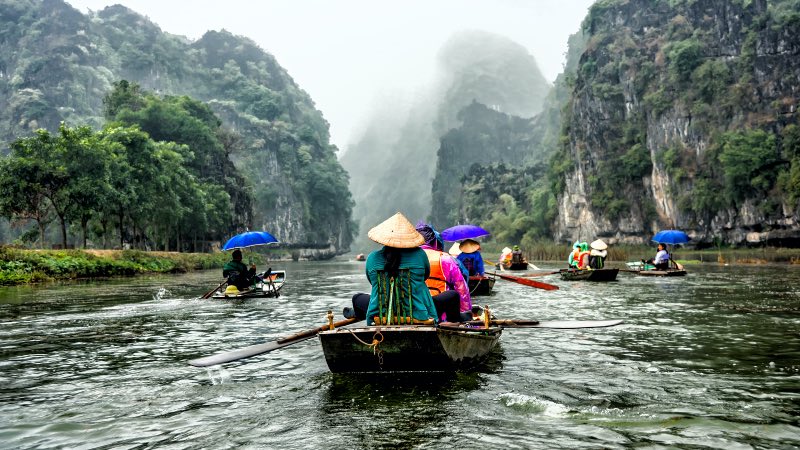 The Beaches
One activity you are sure to do is spend time on the beach, soaking up the sun and topping up the tan. You have plenty to choose from, but we've picked out three we think you'll want to visit.
Soi Sim Beach – Small, crescent-shaped, sounds perfect. It's a few kms west of Halong City. You'll be able to enjoy the natural surroundings here, and the fish that'll be swimming with you in the clear waters.
Vung Ha Beach – You'll find this beach on one of the bigger islands and is 30km from Halong City. You might well spot a cruise ship here, but that shouldn't put you off from the water-based activities available.
To Ba Trai Đào Beach – It's translation means 'three peaches' and getting here is the hardest of the three featured. It's only accessible for around 3 hours a day because of the tides. It's found in an inlet and comprises three small hills.
The Caves
You can't visit the Halong Bay region and not explore the caves. After all, a little boat trip around is what makes visiting here so special. The caves you'll discover have some exotic names such as Fairy Lake or Three Palace and Wooden Head. Worth visiting wouldn't you say?
Ho Dong Tien Cave (Fairy Lake) – it's here that fairies go to bathe and rest, so local legend suggests. Discover for yourself as you explore the two main chambers. Let's just say, it's stunning. Found in the middle of Halong Bay, Tam Cung Cave (Three-palace) is split into three different parts. Listen out for the wind echoing on the walls. Finally, there is Dau Go Cave (Wooden Head), it's the biggest cave in the Halong area.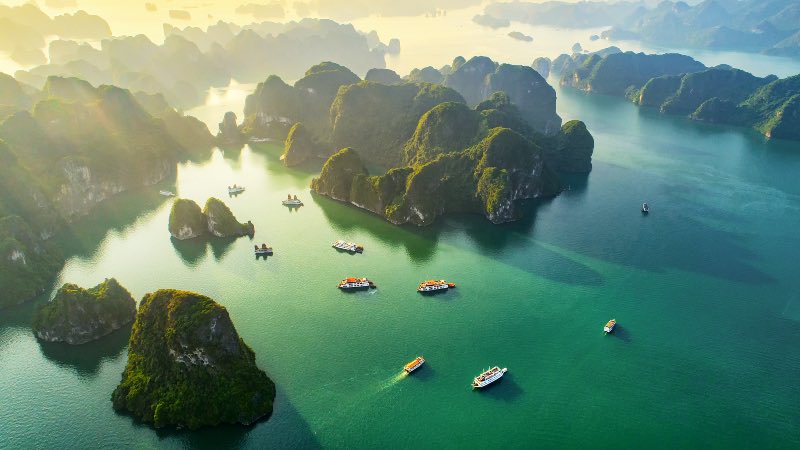 The Islands
When you are exploring the caves, you can't but help notice the many islands dotting around the bay. You'll again have plenty to pick from, and again, we've given a few options.
Ti Top Island: If blue waters and tranquillity are words that light up your eyes, well, Ti Top Island is for you. The beach is crescent moon shaped, and its peak is 110m up. Which you can climb. It's a bit of heaven.
Cong Do Island: You'll find a diverse flora and fauna on this island. You'll also find lagoons where there's plenty of sea life. A snorkelling treat awaits.
Dau Be Island: Our last option is also known for its Ba Ham Lake. Impressive rock formations and an unusual landscape make this place a top spot.
We've only touched the turquiose surface with our top picks around Halong Bay. Visiting here is like stepping into a sci-fi landscape, unique and stunning. You can do other things like head into the jungle or even visit a theme park. And as fun as they are, it's the islands, beaches and their treasures that'll properly enthral.