Underground, overground, London and its tube go together like chalk and cheese! From its iconic red, white and blue station logo design, patterned seats, clammy carriages in summer and 'mind-the-gap' announcements. Love it or hate it, any visit to the capital and you'll bound to have to use the London Underground, the tube.
Honestly, don't be afraid to step aboard an underground train. You need to embrace the experience, and you'll soon be falling for its quirky charms. Visit the networks famous london underground stations, and seek out their distinctive architectural features, uncovering their myths. If you do, you will find a very different London, and be better for it.
Let's hop aboard the incoming train and travel the tube, exploring London in a very different way – mind the gap!
Baker Street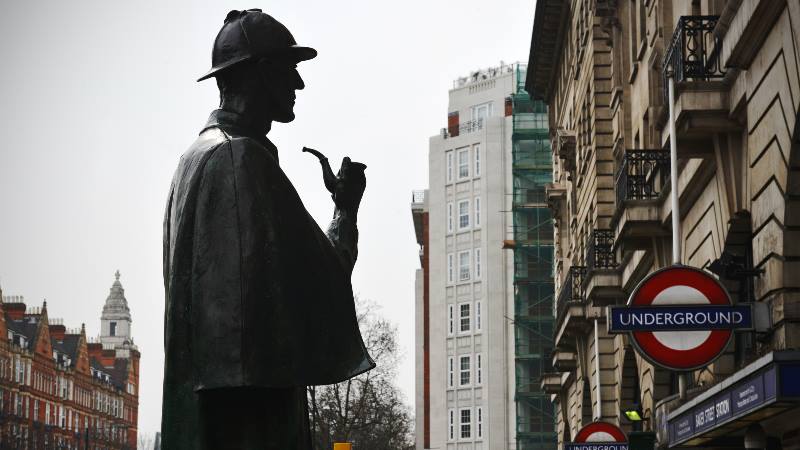 Do you know the famous Gerry Rafferty song, Baker Street? Saxophone at the ready if you do! If the song isn't familiar, then how about that famous detective Sherlock Holmes? His statue stands outside the entrance of Baker Street station, and the museum is a few strides away (just around the corner up Baker Street itself). Baker Street may not be a station to look at aesthetically, but with Regents Park, London Zoo and Madame Tussauds nearby, it's the station you will probably visit to reach these major attractions.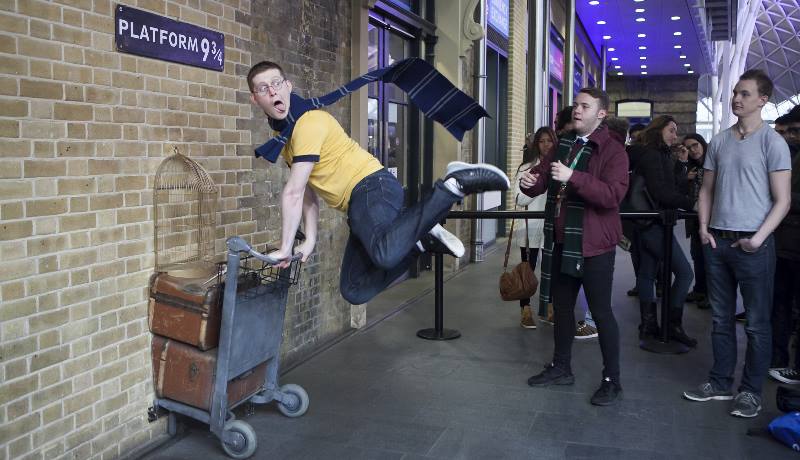 You know the station; Kings Cross. You know the platform, 9¾. Well, why not go and take a look. Ok, so the platform itself doesn't exist, but there is a particular part of the station dedicated to Harry Potter. It's not hard to find as there will be a queue. All waiting for their turn to take that memorable picture.
Next door is the beautiful St Pancras station, one of London's most aesthetically pleasing station buildings. It's frontage is a hotel, but you can go into the station itself, where you'll find shops and eateries. Just dodge the many passengers with their suitcases as this station is the Eurostar terminus.
London Underground Map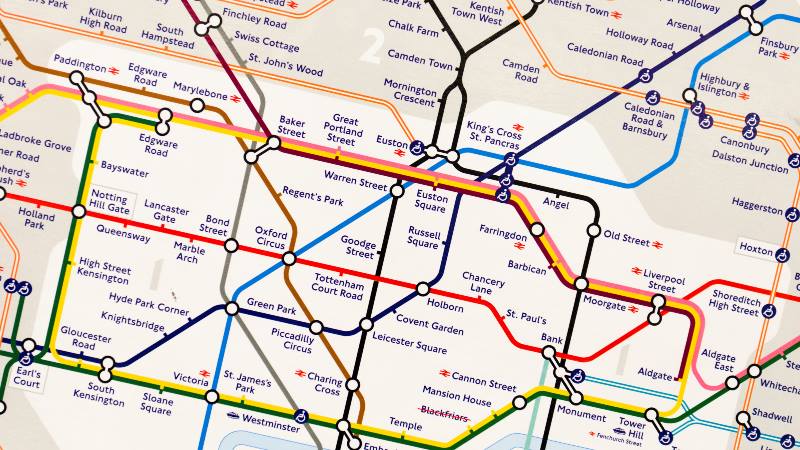 Make sure you pick one of these up at the station (any station will do). Then sit down and take a proper look at Harry Beck's creation. I'll bet anything, you'll be looking at it again and again. You can find hidden animals within the map design, the funny station names, the different colours of the lines, and the ever-increasing additions to the map. Well, what's not to enjoy abotu spending a few moments with this iconic design?
Here's a little game you can play as you travel around the tube. Try planning alternative routes – pick a start and end point. See how many different ways you can get from A to B. Then when you worked out a route, try them out. Hours of fun guaranteed.
London Underground Art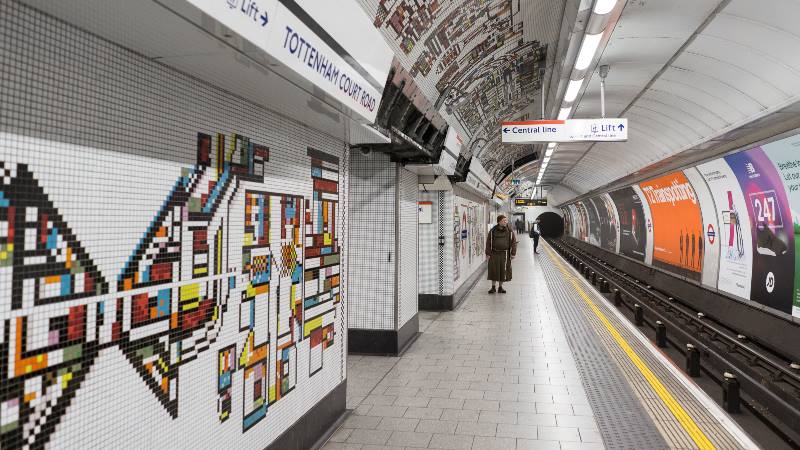 One of the tubes great joys is discovering that each station is very different. Some stations hark back to the art deco style, some are very 60's looking! All gray concrete, yet they somehow hold their charm. On the platform and in the tunnels each station has their individual style, artwork, ambience, etc. Our top picks include, Gloucester Road, (check out the artwork on the platforms), and the refurbished Tottenham Court Road with it's Paolozzi mosaics. You'll need to have your camera ready!
Ghosts of the Tube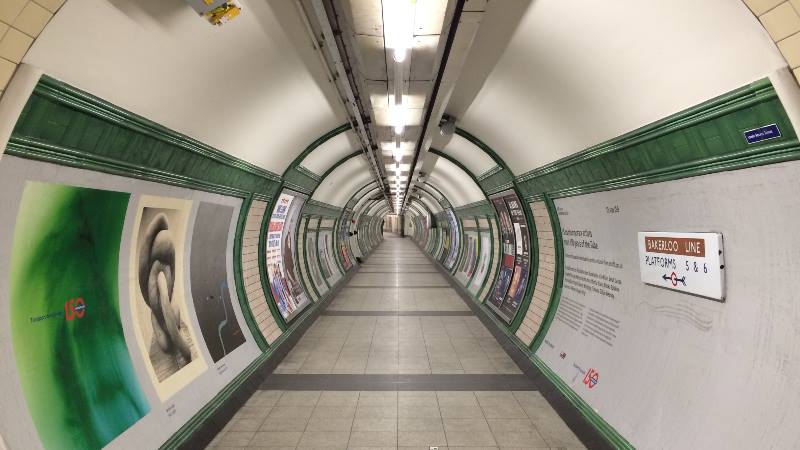 The underground has a vast network of tunnels in each of its stations. Some connecting to another station entirely! This vast network of tunnels with the whistling wind and distance trains makes for a spooky environment. Little wonder that supernatural occurrences and sightings take place down in the depths of the tube.
Eerie whistling sounds to figures walking along platforms. The tube has it all! Some of the famous stations for a bit of ghost hunting include Kings Cross St Pancras (a young woman), Farringdon (the screaming spectre of Farringdon), Covent Garden (tall man in a hat) and Elephant and Castle. Perhaps best to walk them with someone. Just in case!
There are even ghost stations! Aldwych is the most famous, used during the London Blitz of the Second World War. It's also been used as film location for many film and tv productions. Another station is Charing Cross, although technically it's not a ghost station, just parts are closed off to the public. Famous scenes from James Bond films capture some of the 'ghost' elements of the station, and you can take a tour around them.
Other bits and pieces 
If the above wasn't enough to keep you occupied, then you could always visit The London Transport Museum, in Covent Garden. A visit to the museum will give you the full history of the world's oldest underground network and how it developed to what you see today. There are some stunning displays, including old vehicles, trains and other Transport for London carriages, some of which you can go inside. If the London weather isn't being friendly, then this is a great place to bring the family.
Or how about getting your head around the following facts. Perhaps to impress your fellow travellers. There are 19 stations that you can only get out of by taking a lift (note: some do have stairs). Only 45% of the stations are actually in tunnels, and the shortest distance between two stations is 260m! From Leicester Square to Covent Garden on the Piccadilly line. It's easier to walk.
The London Underground has played a massive role in the city's development, and will continue to for many, many years. Its part of London's DNA and if you are a visitor to the city, then all you can do is try to embrace it.
Every station is unique, has its style and ambience, that is what makes the Tube special. It should be cherished and celebrated. So, enjoy it, take in the sights and sounds, the smells and the myths. Look at the posters as you walk through the tunnels, look out for the hidden entrances, it'll make your time in London so much more rewarding.