Cambridge, the other famous English university city. Compact in size and full of treasures awaiting any that explore its colleges, gardens, sand coloured stone buildings and cobbled streets.
You're sat back, relaxed in your punt, making your way down the river Cam. Around you, the exquisite green lawns and stunning architecture of the college buildings pass you by, a glass of champagne in hand. It's an image that is as quintessentially British as strawberries and cream at Wimbledon tennis championship. Even more reason to visit.
Cambridge is a small city where cafés and independent shops and restaurants jostle for space among the colleges, museums, and green spaces. Head away from the centre towards the river and you'll find stunning green meadows and striped lawns. A summer scene that brings a smile to the face and joy to the heart.
A day or weekend here is as pleasant an experience as you would care to wish for. Idyllic touring is a better word to describe a visit here.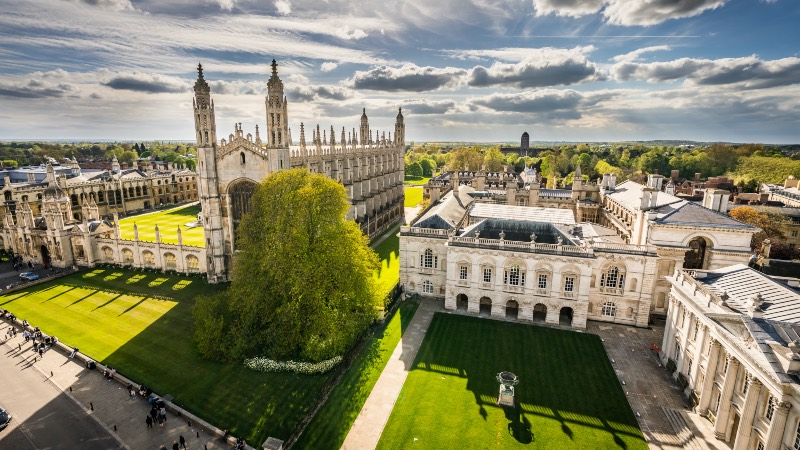 Like 'the other place – Oxford', Cambridge is best known for its world-renowned colleges. Some of which as tourists you can explore. Trinity College and Kings College are perhaps the best known. Christ's College, Jesus and Peterhouse among many others. It's a different world, but a fascinating one to explore and learn about.
Imagine, former Prime Minister's, Scientists, poets, and writers have been resident here. Each of them planning, discovering, plotting their futures while sitting on the manicured lawns chatting to their friends and colleagues. Wander through the city centre, take in the tourist shops and cafes. Enjoy lunch in a restaurant but explore those colleges.
There are museums and libraries of interest too. Fitzwilliam Museum for art and the Wren and Pepys Libraries to see collections that would be the envy of many. 
Go for a Punt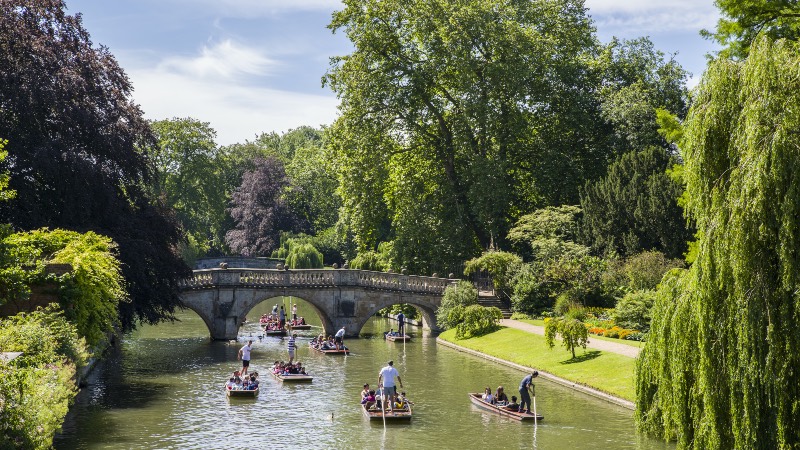 Enjoying a punt down the Cam river is one of those activities you just have to do. It's an hour of relaxation if you're not the one punting! Enjoy the views, the gardens and parks and the rich architecture as you slowly make your way along the river, trying to avoid other punters as you do so! 
The Backs stretch along the river. College gardens and parks, where on a summer's day you'll find people enjoying the sun and a picnic, no doubt. Make sure to take a walk along the riverbank. It's the perfect way to unwind after touring the college grounds and museums.
Cambridge, much like Oxford, is a compact city that delivers plenty of tourism experiences and memories. Be sure to explore its streets and take a walk or a punt along the river. Soak up the ambience and dream. A little bit of England – magical and memorable.