Cadiz is old. Actually it's ancient! In fact, it's the most ancient city in the Western world. The city was founded in 1100 BC by the Phoenicians, so taking a stroll around the streets really is like stepping back in time. From the seafront to its cathedral, and the tasty local cuisine, this is an underrated city that frankly needs more attention from the visiting tourists. So, what are you waiting for, let's give Cadiz the attention this beautiful city deserves.

To the South is Gibraltar, the East major resort regions such as Malaga, so it's not surprising that this Andalusian city is often overlooked. It's only 14 km from Africa, has lovely beaches and sand dunes. The city is almost surrounded by water and has a diverse number of attractions and neighbourhoods to explore.
The question is, if you've only got a day to spare during your busy holiday, and you choose to come to Cadiz, can you explore the city in a day? Will you be able to get the most out of your short stay here? And what attractions should you be checking out.

We at The Guidebook are going to answer those questions and more. Cadiz in a day? We've got you covered.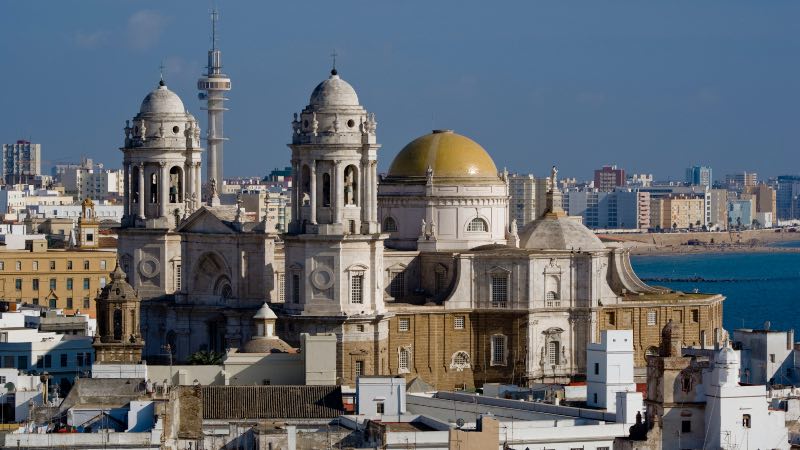 Morning
Ah, it's a new morning. The sun is shining and the thoughts of exploring and adventuring in a new town can only raise the spirits further. Have a hearty breakfast as you have a busy day ahead. Cadiz is waiting. We're going to spend the morning at some of the towns top attractions, starting with Cadiz cathedral. Baroque and neoclassical in style, call it the city's centrepiece. The building took over 100 years to build, so it's mix of styles is clearly evident as you stroll around.

Then we take a walk through the neighbourhoods. El Populo, the oldest in the city, is a fine choice. There are archways to walk under, and a Roman theatre to see. Stop at one of the plaza's like Plaza de San Juan de Dios or Plaza San Martin. Near the Plaza de San Juan is Tavira Tower, all 173 steps up to, well, not quite a stairway to heaven, but a splendid view of the city at the very least.
After all that walking, it'll be time for lunch, much needed too. The triangle Plaza de las Flores is a great place to grab a bite to eat. It's a lively place with some cafes to test out. Enjoy a Cadiz churros, and the fresh fish isn't half bad here either! If the choices here don't persuade you, then the nearby Central Market should offer something to tuck into.

If all that strolling is getting to hot for you, well there is always the option of a hop on bus tour. You'll see all the major attractions mentioned, just that you have the bus to transport you around. We call that a win/win.
Afternoon
How about an afternoon dip in the sea? Ok, maybe not straight after lunch, so go for a walk first. You'll find some other attractions to enjoy as you wander. There's the Santa Catalina Castle, the oldest fortress in Cadiz. From here you'll get a superb view of the sea and the beach! And when you look out, well, come on, the sea will be calling. The sparkly blue, it's hard to resist. La Caleta beach is the city's closet, and as good as any you'll find along the immediate coastline. Even if you only dip your toes in, it'll be worth it.

After your dip you'll see another castle, San Sebastian, on the horizon. It stands on a tiny island, and with long breakwater, but very reachable.
Then, as the afternoon draws to a close and the evening air cools, enjoy a final look out at the Cadiz scenery as the sun goes down. A gentle stroll on the seafront promenade makes for the perfect ending to the day.
Evening
If you decide to hang around for dinner, then you've made an excellent decision. Try some of the local dishes, such as the fried fish called pescaito frito or the shrimp omelette. In summer you really have to try one of the local dishes, mackerel with pirinaca. It's a mix of finely chopped tomato, peppers and onion, with a dash of extra virgin olive oil and sherry vinegar.

With belly's full, head for a bar and rasie a final salute to your day or even catch a flamenco show. There's no better way to ending your day than enjoying a slice of the Spanish dance or a glass of the local tipple. You'll be rounding off a wonderful day if you do.

Cadiz is a city full of secrets and treasures, as is the region of Andalusia. So, if you are in the area, the city they call Tacita de Plata (the little silver cup), is well worth at least a day of your time. Between you and me, it's really more a city of gold rather than silver!