In February (the depth of Sweden's winter), equipped with a hat, gloves, fluffy coat, thermal socks and a suitcase full of jumpers, I braved the bitter cold and visited Sweden's capital. Spread across 14 compact islands on the baltic sea, Stockholm, is easily one of the most beautiful cities in the world. A hub of culture, both old and new, Stockholm invites all types of traveller and welcomes them with open arms, warm smiles, great food, and some much needed hot chocolate!
Day One
Only three days in this winter wonderland called for early mornings, late nights and a busy itinerary allowing us to see and do as much in as possible.
Skansen, the world's first open air museum, was one of our first stops in Stockholm, and of course there was no better way to get there than by boat. Swedish boat trip – Check!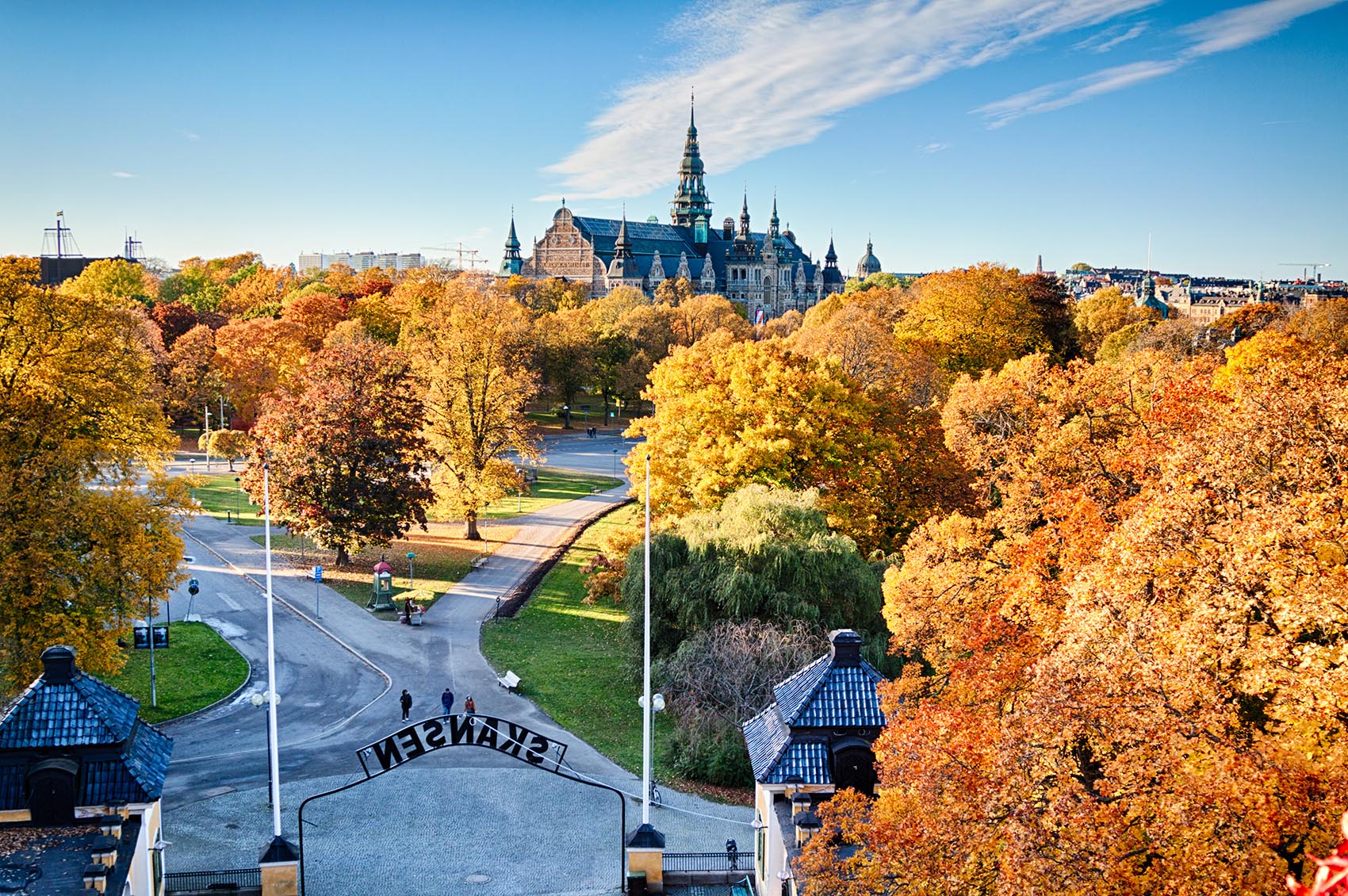 This massive museum spans over 75acres and 5 centuries of Swedish history. Historic buildings and people in period dress give an accurate and atmospheric insight into social and living conditions in Sweden from the 16th century onwards. As well as this, Skansen also houses a zoo committed to showcasing Scandinavian animals.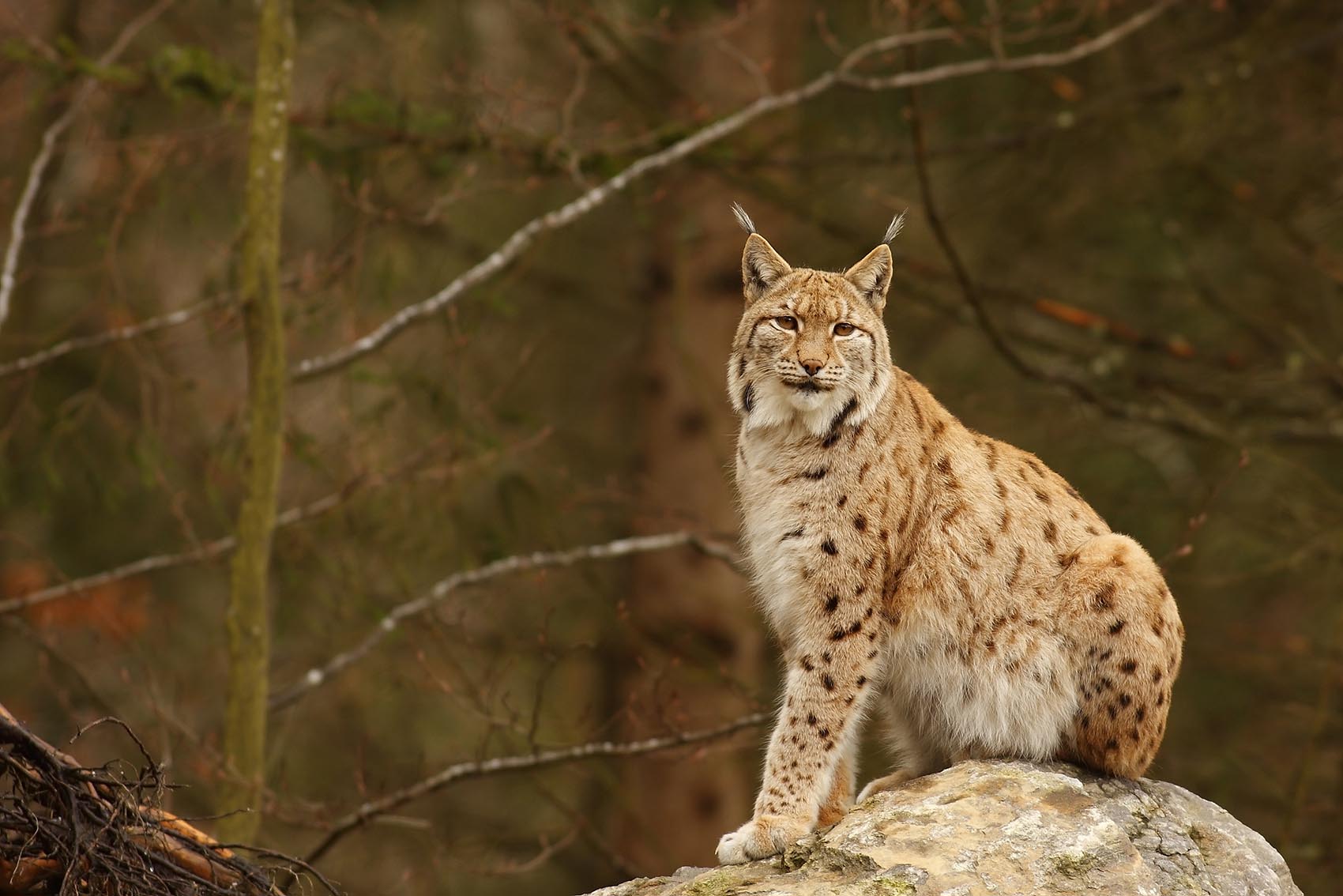 The zoo was a Stockholm highlight for me, and felt very different to many zoo's I'd been to before. Animals had plenty of space to roam wild and visitors were able to get up close to the majestic creatures without the harsh cage bars that are common in other zoos. Elks, Bisons, Lynx and Wolverines (no similarity to wolverine from X-men FYI) were just some of the animals that I was able to see for the first time.
Covered in snow and icicles, traversing this immense open air museum was a magical  narnia-esque adventure.
After traipsing around Skansen for much longer than planned, (the itinerary didn't account for all the time we would spend trying out historic sleighs and ogling at goats and fluffy sweetish cats), it was time to hit up our next stop, The Vasa Museum.
The Vasa,
Walking into the Vasa Museum you are immediately confronted with the imposing presence of the 69-metre long warship that sank in Stockholm on its maiden voyage in 1628. The humongous vessel, which is over 95% original and intact, is decorated from starboard to port, fore to aft, with hundreds of carvings, sculptures and embellishments. With six floors, the museums allow you to see the ship from numerous different angles, and learn about her interactively through a reconstructive video and ten different exhibitions.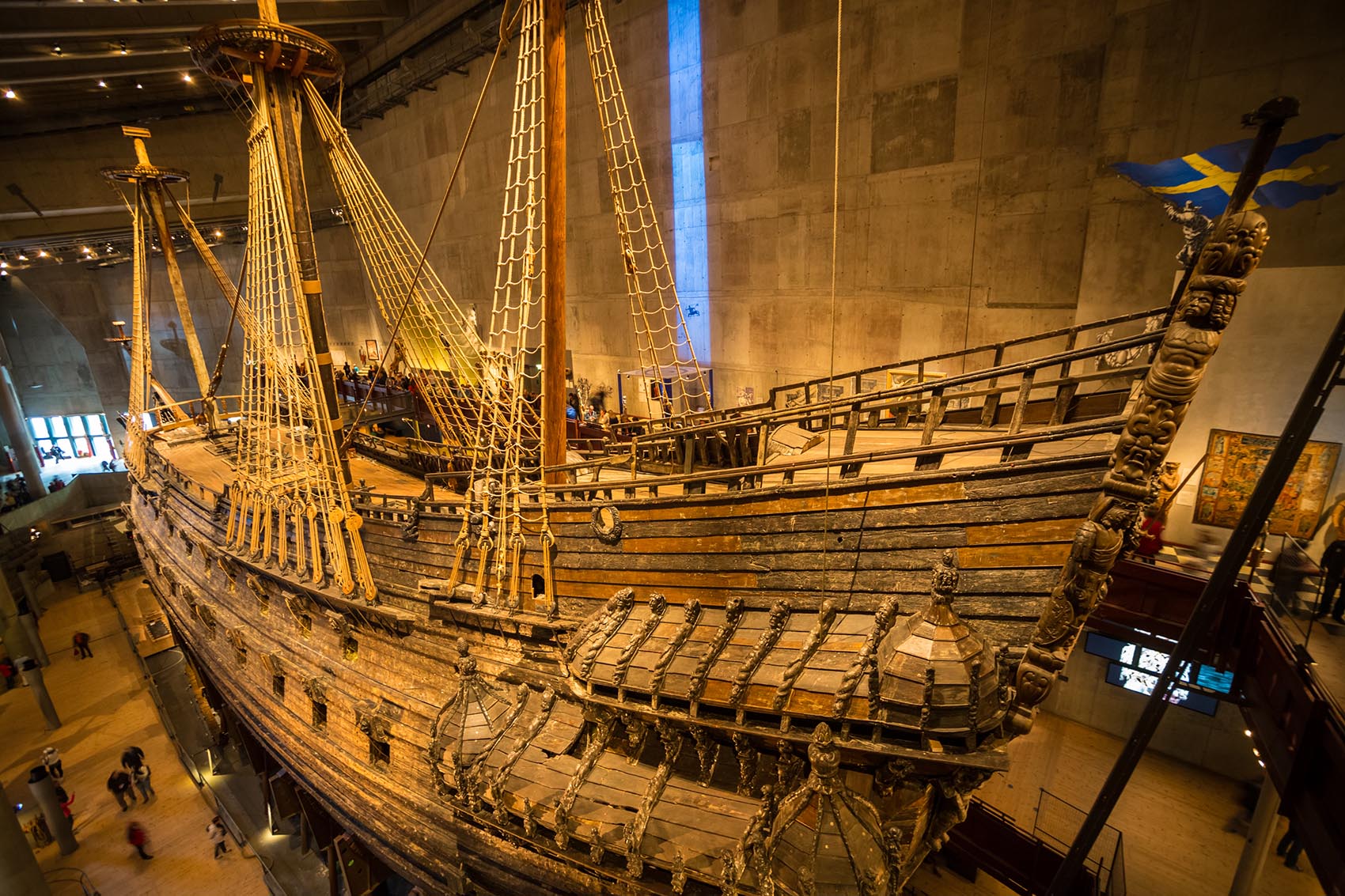 My personal favourite was the final exhibition on the lowest floor, Face to Face, which allowed you to 'meet' the passengers of the ship through facial reconstructions, sound chambers, and items found aboard the vessel. The museum also had a great gift shop, café and designated selfie spot!
By the time we left the Vasa it was almost four pm, and daylight was fading fast but we still had more to see! So a short walk from the Vasa museum, we came to our next stop, Junibacken!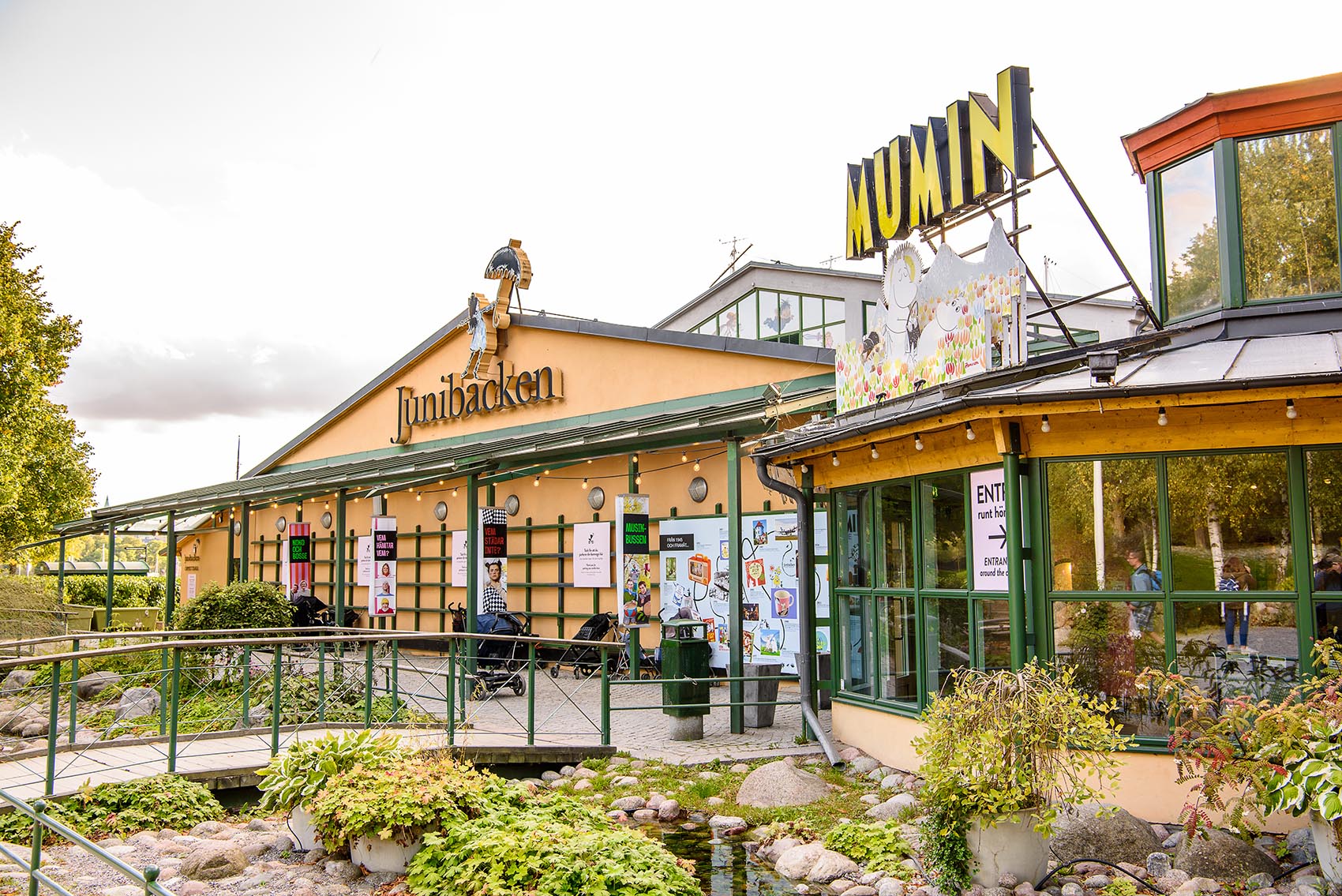 Junibacken! is a children's museum devoted to Swedish children's literature, particularly that of Astrid Lindgren – Author of Pippi Longstocking. After riding the 15minute story book train, we went straight to exploring Pippi Longstocking's, house, then onto storybook square which was packed full of quirky installations, inventions and exhibitions of things that can be found between the pages of children's books. Safe to say this wacky world of fantasy and imagination was just as much fun for us as it was for the kids!
With all the frolicking around, it was now time for some food, so we headed to Gamla Stan (the Old town) for some Swedish grub and some well deserved Briska!
Although shattered from walking around all day, we didn't want to waste a second in this glorious city so after a quick change it was back out again to check out Stockholm's famous Ice Bar, which surprisingly wasn't that cold compared to outside!
Day Two
Morning came fast and early and we set off into the snow, across the bridge into Gamla Stan, the old town. Far from the modern surroundings of our hotel, Gamla Stan is a picturesque medieval city centre, complete with winding streets, cobbled paving, and of course, a Royal Palace.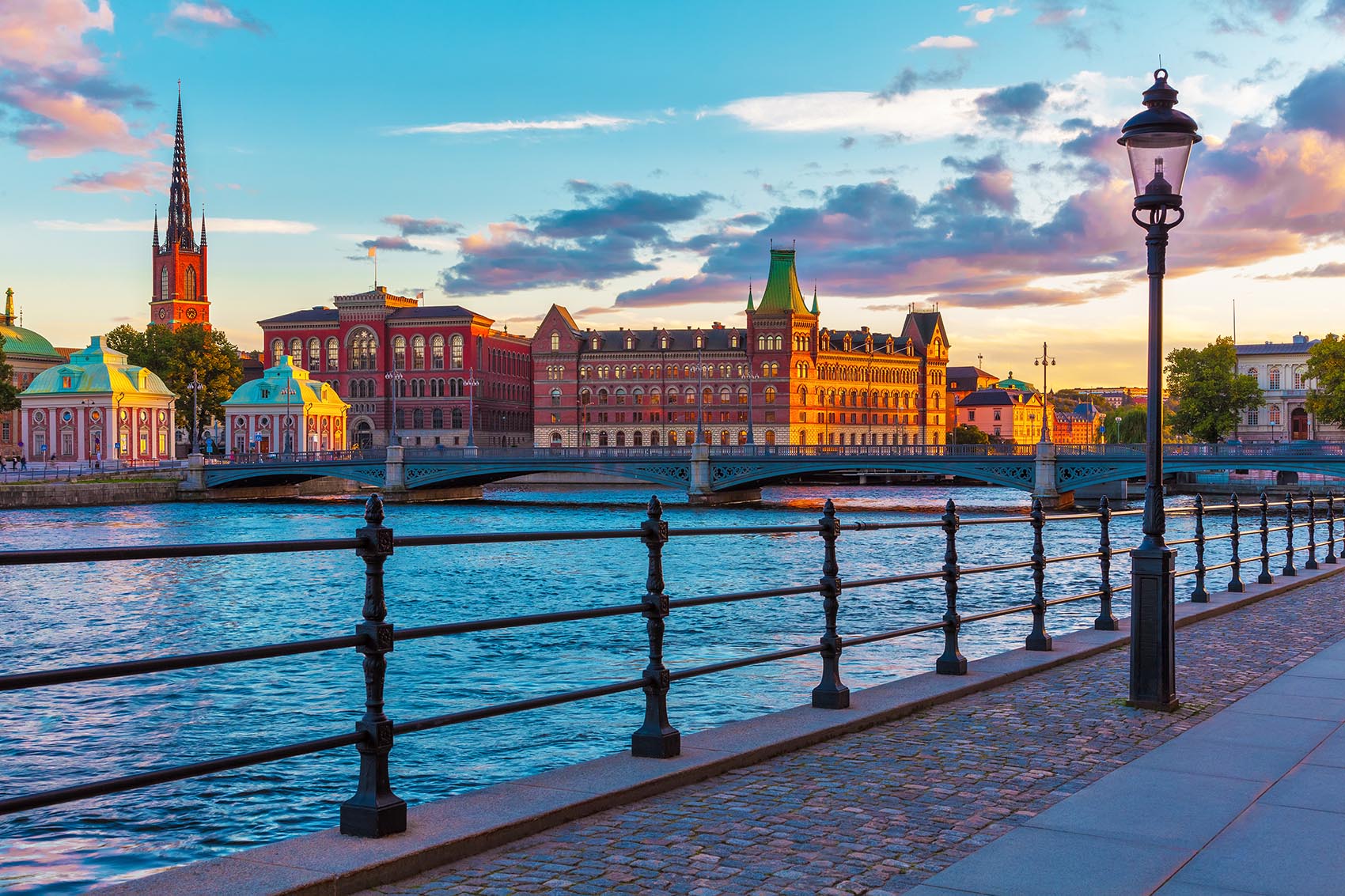 This grandiose palace is home to five different museums, showcasing a mass of artwork, baroque architecture, Royal antiquities, Royal costumes, and even two rooms dedicated to Royal clocks!
After a couple of hours of wandering around the palace, getting close to the royal thrones, seeing the royal apartments, and of course, daydreaming about life as a Swedish Princess, it was time for our next Stockholm adventure – A boat tour!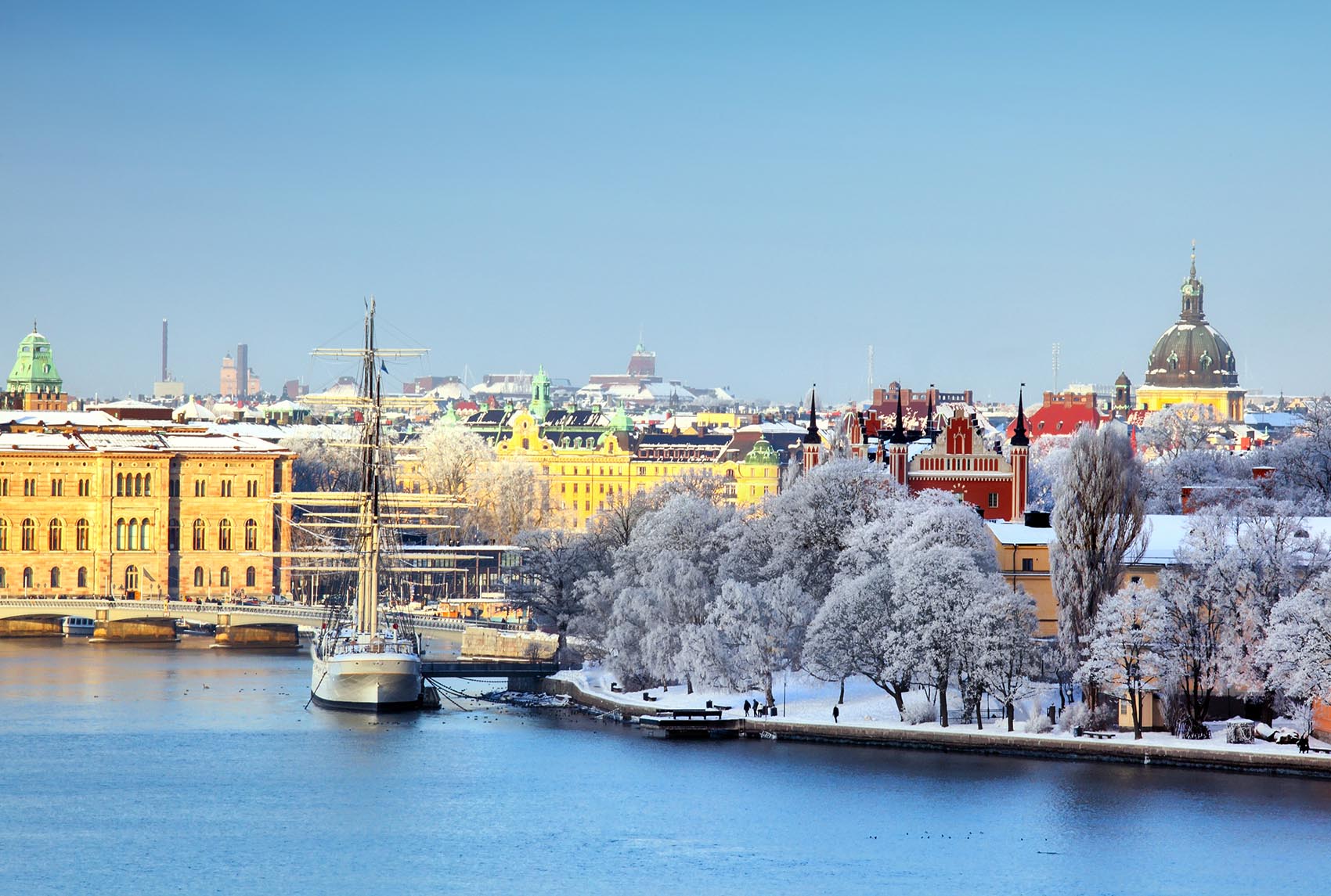 Undeterred by the fact that the majority of the water seemed to be frozen, we decided to embark on a guided winter boat tour allowing us to see the full beauty of the city, then around the archipelago and the islands of Fjäderholmarna. The views from the boat were spectacular, allowing us to see things that would've easily been missed by navigating the city on foot. The 2 hour tour was very informative and entertaining. Although the wind was fierce (especially when we changed direction) we were very kept as warm as possible with reindeer pelts and hot drinks. Nevertheless, it was definitely time for another hot chocolate when the tour ended! What better place than the grand hotel, when in Stockholm aye?
Once the warmth had returned to our fingertips and we could once again feel our toes, it was time to head back to Gamla Stan, and the famous Nobel Museum.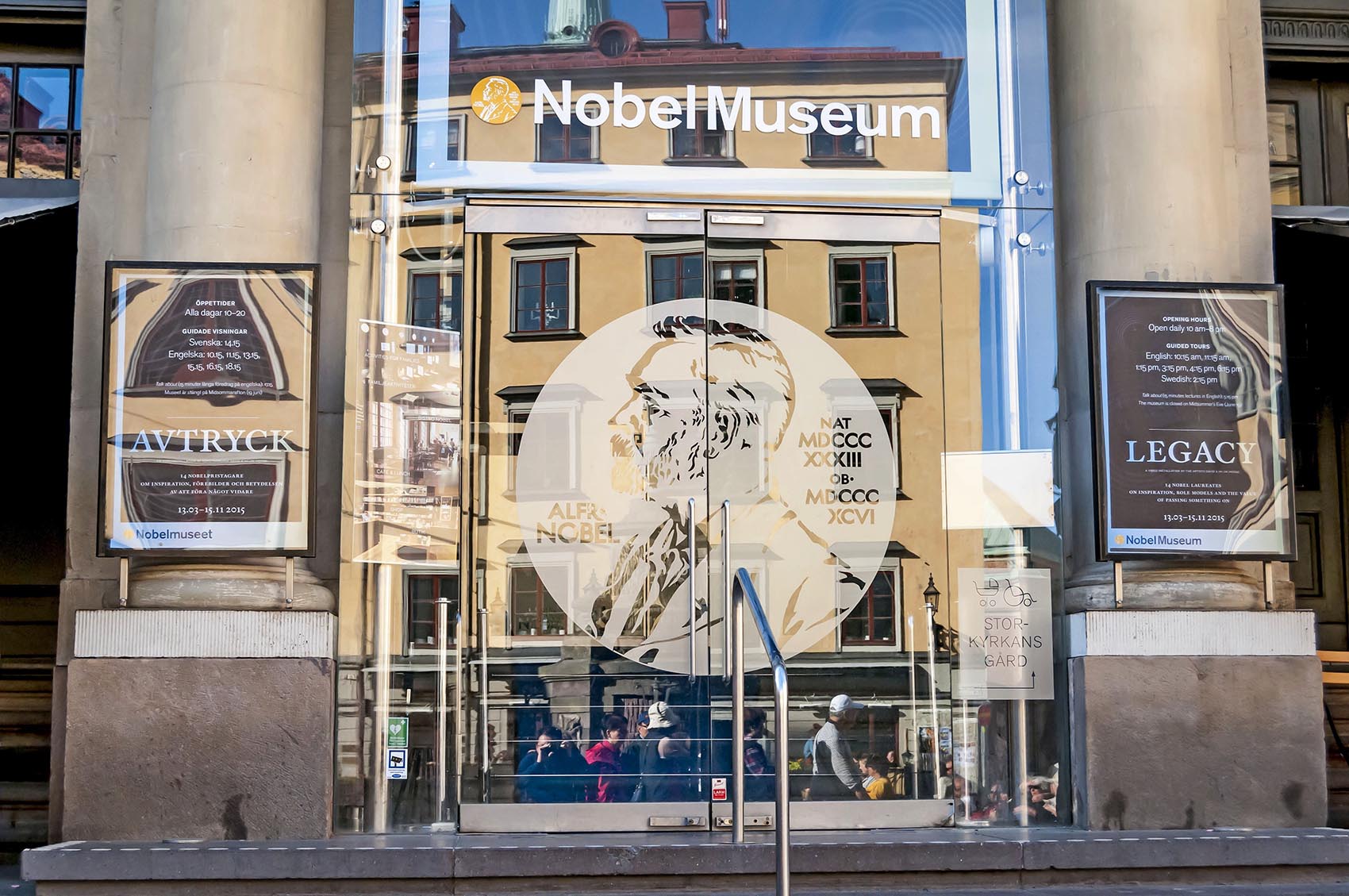 The Nobel Museum is dedicated to Nobel prize winners and prize founder, Alfred Nobel. Giving personality to the inventor of dynamite, the museum tells an emotional story of Nobel's personal life. From his amazing intelligence despite his lack of formal education, to his failings in love and of course his turn away from the profits of destruction and finally his generous gesture which rewards others for their contributions to humanity. As well as learning about Nobel himself, there are also numerous exhibitions about both current and past prize winners. The whole museum is presented in a dynamic and interesting way which really impressed us.
Just a short walk from the Nobel museum is the Post Museum, and with the sky darkening and the weather turning from cold to colder, we decided to make this the last stop of the day.
With everything from the changing nature of letters, to the changing look of postal uniforms and vehicles, this museum was foremost about communication. The interactive exhibitions allow you to explore historic post offices, dress up, become a post master, create a secret cipher code, witness beautiful stamps, and read antique letters and postcards from allover the world. This relaxing but fun environment was the perfect, educational end to our busy day.
Day Three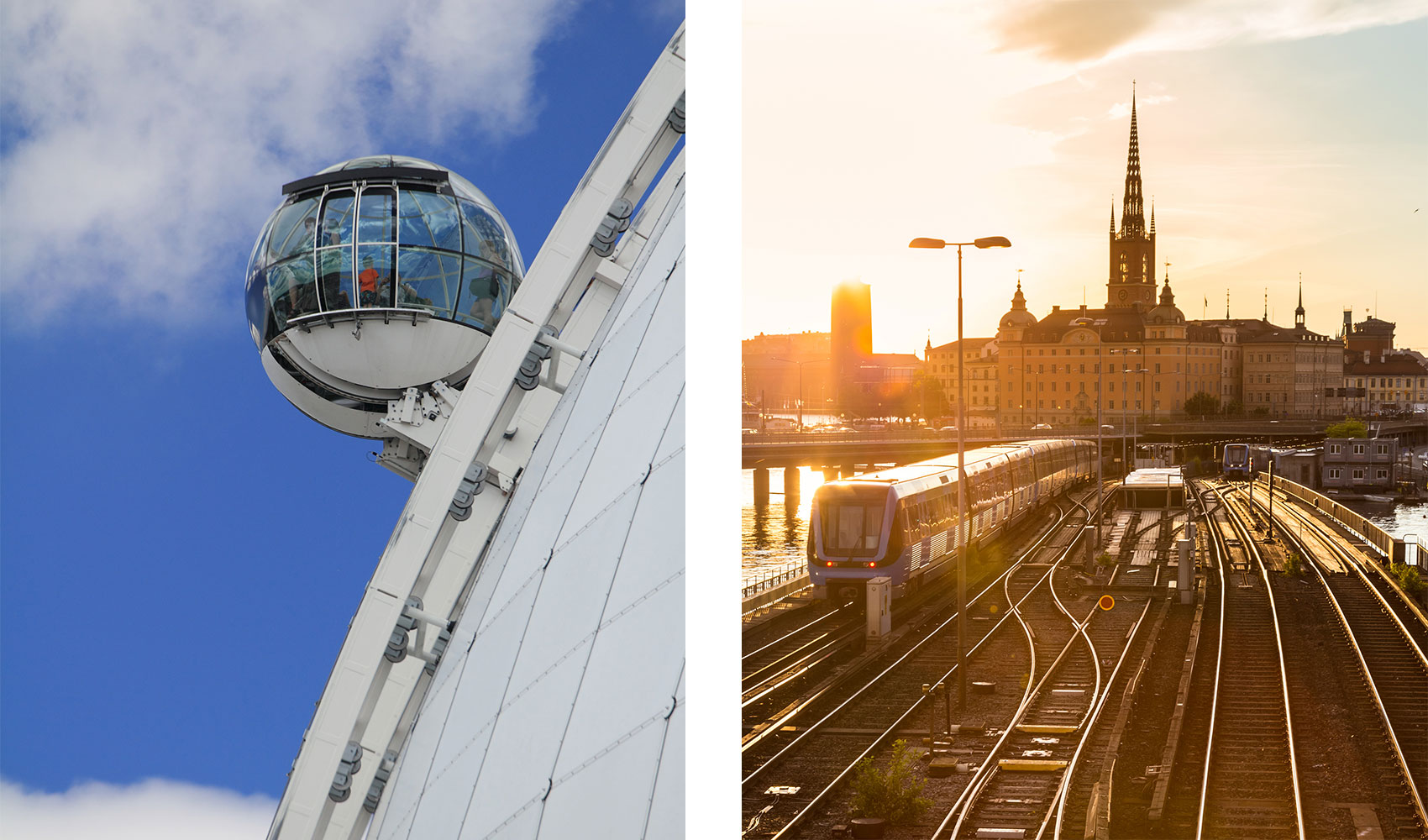 By our last day in Stockholm we were pretty tired, so instead of a jam-packed day sightseeing we opted for a chilled out day of shopping, eating good food, and watching our last Stockholm sunset from inside the glass pod of the Stockholm SkyView.